Shutter 1: A publication of drawings from the interbellum period under the title Fatalitas!
Inmate art – a recent term in the west – is art that has been made by people who have been placed in solitary confinement because of criminal activity. After his death on 24 January 1960, Doctor Jean Lacassagne, a champion of this specific art branch, almost fell into oblivion. He was born in Lyon (1886) as son of the famous law doctor Alexandre Lacassagne, who introduced as a dermatologist, the tattoo as a subject of study. Inspired by the sick-calls with his father to the hospitals and penitentiaries of his birth city, Jean published (later as a dermatologist) largely concerning this subject. After his fathers death, Jean even inherited a photograph file decorated with tattoos, and even a service decorated with tattoos.
He had been inspired with compassion and advised his inmate patients to continue with writing and drawing as an outlet for their despair. In 2007, a manuscript of a man called Migron with M. as a initial, was connected in the files of Lyon with drawings by the same hand, which turned up on the art market. Some drawings literally illustrated the text.
The recurrent criminal acts of M. Migron, illustrated by himself, form the red wire through this book. We have chosen work of several artists to illustrate the tale of Migron. This bilingual publication (N/FR) has been published in May 2008 under the title:
Fatalitas! Van sletten, flikken en brommers… Putes, poulets, prisonniers racontent…
Content : 35 p. text and 43 p. with illustrations full page and full colour. 
Price : 14 € + 8€ mailing costs (Belgium) or + 10 € ( Europe)
Payment on account 734-0147522-91 IBAN:BE23 7340 1475 2291 BIC: KREDBEBB.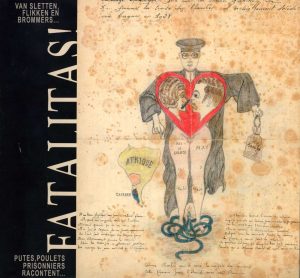 Shutter 2: Exhibition FATALITAS! Drawings from inmates of the interbellum period
In association with the museum Dr. Guislain in Ghent in 2010, an exhibition of French inmate Art has taken place where doctor Jean Lacassagnes life's work will be at the centre.
This show was devoted to the misunderstood talent of Jean Lacassagne of Lyon, a doctor who worried about the health of inmates and prostitutes. The main accent was on the collection of inmate art of the dermatologue who was an art therapist avant la lettre.
When? May 22 – September 12 2010
Where? Dr. Guislain Museum Ghent , Dr. Guislainstraat 43 in Ghent